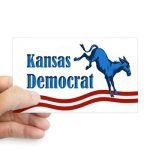 As Tuesday showed, there has never been a more exciting time to be a Democrat! To build on that enthusiasm, we need to invest in the future. That is why we are proud to announce that we are accepting applications for our 2018 Political Fellowship! Now in its second year, this initiative will help shape our Party's future and represents a major investment in the next generation of Kansas Democrats.
Designed to build practical political knowledge over a series of five weekends, the Political Fellowship provides networking and mentorship opportunities for aspiring advocates, activists, political staffers, and leaders. Our Fellows will:
Examine the challenges and qualities of leadership necessary in politics
Explore current situations and case studies
Develop and execute a successful strategy and campaign
Build a fundraising program and raise the funds necessary to win a campaign
Create and communicate messages that educate and motivate others to action
Understand the importance of a field strategy for winning campaigns in Kansas's political environment
Network with current political leaders and current and former campaign staff
Additionally, we will be strategically offering campaign training to provide quality staff for candidates, issue-based campaigns, and grassroots leaders.
For more information and a link to the application, go to KansasDems.org/KDP-Fellowship. Applications will be accepted through March 15. Please email questions to gro.s1521385836medsa1521385836snak@1521385836swoll1521385836eF1521385836.
This amazing program would not be possible without your generous financial support. If you would like to make a contribution to the Fellows program, you can do so here: https://act.myngp.com/Forms/-7422512059157248000
Thank you for all you do!
Ethan Corson,
Executive Director, Kansas Democratic Party