Run for Office
T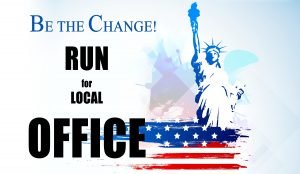 he best way to combat corruption in politics is for good people to run for office and take those seats. Every election is important and has the potential to impact our day-to-day lives. From the local school board, to statehouse elected seats, all the way up to the White House … every election matters. Tweeting and posting on social media outlets are good methods for sharing information. But if you really want to fight corruption and help set our community on the right path, get on the ballot. "You should consider running for local office because local offices matter. Serving in local office is an opportunity to serve. As a Democrat, as a Kansan, and as an American, I believe in the value of serving. I bet that you do, too. Running for local office is one way to serve." — John Gibson, Kansas Democratic Party Chair.
The most meaningful thing you can do in the age of Trump, for your community, for your country, is run for office. Across America, Republican politicians stand ready to do their part in the implementation of the Trump and GOP agenda. Beat them. Across America, Democrats blind to the stakes of the moment, comfortable in their positions or too timid to fight effectively against the Republican Party, stand, like bowling pins, ready to be knocked down again. Replace them. Not with some milquetoast professional or former lobbyist groomed by the state party. You. You, with the undocumented parents; you, who remembers when your town was a steel town; you, PTA regular; you, professor; you, concerned citizen, should run. — Slate
The deadline for filing for Topeka Mayor, City Council, and School board positions within Shawnee County is June 1.
Shawnee County 2017 Filing Information Sheet for City Positions and Sherwood Improvement District
Shawnee County 2017 Primary Candidate Filing List
Shawnee County 2017 School Candidate Filing Info Sheet
If you think running for your local city or county government positions can't help, watch this primer on how local communities regain rights and control what happens within their borders.